COMPLIANCE PENAL
Implantation of the Criminal Compliance Management system. Design, implantation, Maintenance and Training.
Criminal Risk Prevention. Protocol and criminal prevention procedures implantation.
Corporate crime commitment response. Advisory services and legal support.
Externalized Whistle-blower channel. Implantation and management of the channel.
Auditing the Criminal Prevention model.
COMPLIANCE OFFICER (LEGAL CONTROLER)
Design and implantation of corporate crime prevention system.
Legal regulation.
Criminal risk prevention.
Design and implantation of prevention model.
Corporate crime commitment response.
MONEY LAUNDERING
Implantation of service prevention.
Adapting the entity to the current law about money laundering prevention and terrorism finance.
CORPORATE DEFENSE – COMPLIANCE
Chronological proof out of the proper control, compliance monitoring, risk maps, control and evidence maps.
ADVERTISING
Examination about the legal basis of campaigns.
INDUSTRIAL PROPERTY
Brand protection in the internet, social media, etc.
Domain recovery.
Patent registry.
INTELLECTUAL PROPERTY
Software auditing and consulting.
Advisory services regarding intellectual property: software, BBDD,…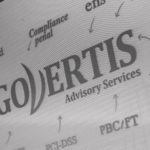 Expertos en Ciberseguridad, Privacidad,  IT GRC y Cumplimiento Normativo unificando la perspectiva Legal y Tecnológica.